7th Annual Green Gifts Fair!
Saturday, November 17, 2012 • 10 am-5pm
Midtown Global Market in Minneapolis – Lake St. & Chicago. Ave. Freewill donations will be accepted at the door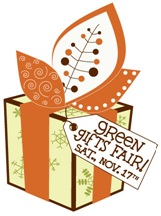 Do It Green! Minnesota offers the annual Green Gifts Fair right before Thanksgiving. The event is meant to introduce green gift options and low impact ideas to celebrate the holidays from Thanksgiving to Christmas to Hanukkah to Kwanzaa to Winter Solstice, New Year's and everything in between! Come begin your holiday celebrations with us on November 17th! 
SHOP
70+ local eco-vendors for green, recycled, fair-trade and organic gifts. 
LEARN
Experience demos, activities and take home information about reducing your environmental impact over the holidays. 
EAT
Come to sample foods and plan to eat lunch or dinner at the Midtown Global Market – offering over 30 food options. 
CELEBRATE
Pick up a free copy of the new 2013 Do It Green! Directory – listing over 150 Do It Green! approved green businesses and organizations. 
REDUCE
Bring your own reusable shopping bags, coffee mug, and plate and silverware set to reduce your waste at the event. 
RECYCLE
Bring your old holiday lights to drop off for recycling. 
COME CAR-LESS
Come by bike, bus, walking or carpool. Download a free bus/lightrail pass the week before the event. 
For more details visit: 
www.doitgreen.org/gifts-fair